AWARDS
Not only our customers, but also independent experts, such as the jury members of numerous competitions, recognize our high quality and technologically innovative products. We at Neoprint are duly proud of our awards.
However, no leading company can operate in a vacuum. That is why we particularly cherish our National Heritage medal that attests Neoprint's professional achievements as well as its contribution to society.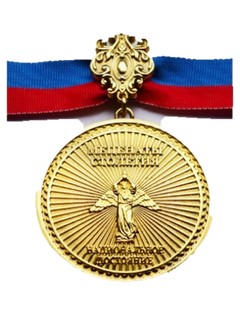 The National Heritage gold medal, the Philanthropists of the Century International Charity Foundation of Russia


As part of Russia-wide National Heritage program of the Philanthropists of the Century International Charity Foundation, Neoprint was honoured with the National Heritage medal and the order of Honour and Benefit. Both awards confirm Neoprint's contribution to Russia's economic and social prosperity.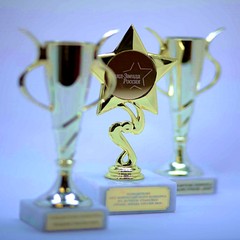 The winner of nationwide Grand Star of Russia competition for the best packaging

The national Grand Star of Russia competition jury duly appreciated the high quality of the promo label, created by the Neoprint team for the Jardin coffee brand.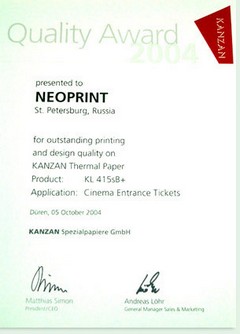 Kanzan Quality Award

The Kanzan Quality award was established by Kanzan, the world's leading supplier of thermal and inkjet papers. Neoprint managed to be ranked first in Europe for quality of ticket production, leaving behind 27 major printing companies from 12 European countries. Neoprint is still the only printing company in Russia to be awarded the Kanzan Quality Award.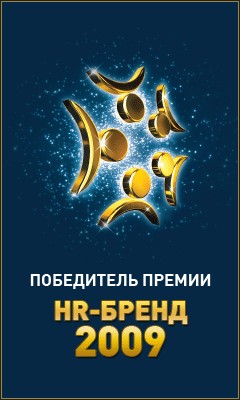 The winner of the HR Brand 2009 Award

On February 11, based on 2009 results, the best employers were announced at the 4th annual HR Brand award ceremony. Neoprint became a winner in the Northern Capital category.
The HR Brand Award is an annual independent award given to the company that has earned a reputation as the best employer. This award represents recognition of the success the company has achieved in the business community, among experts and colleagues, customers and job seekers.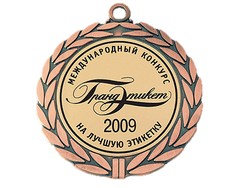 Medal, the Grand Etiquette 2009 competition
Medal, the Grand Etiquette 2006 competition
The Grand Etiquette competition is held as part of the international Label expo.
The jury of the Grand Etiquette 2006 label competition commended our promotional label awarding it with a silver medal.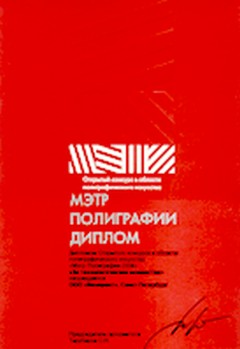 The Master of Printing Production Certificate

Neoprint was offered a certificate in the Master of Printing Production open competition in the Technological Innovations category. The jury highly appreciated our promotional label commissioned by the company Orimi (the Jockey trademark).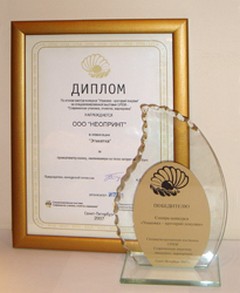 Diploma of the Wrapping-Packaging Criteria Competition

The competition is held as part of the international UPEM, Modern Packaging, Labelling, Marking Expo. .
Neoprint presented, in the Protected Label category, production models of fuel coupons. The jury highly appreciated the full range of security measures protecting the coupons, from various graphic features (thin printing elements, special inks and holograms) to the unique bar code system that allows a mistake-free identification of the coupon.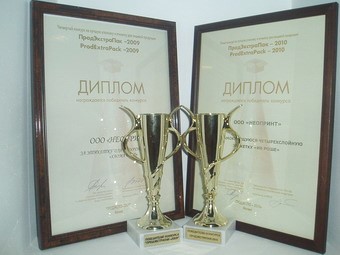 The winner of the ProdExtraPack competition

Neoprint won the diplomas of the ProdExtraPack 2009 and 2010 competitions for the Haoma Gold vodka brand label and the self-adhesive four-layer Yves Rocher label respectively.