Security standards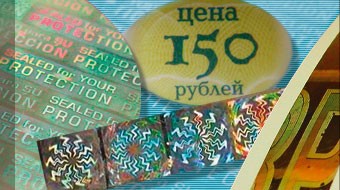 Neoprint offers a wide array of printing products aimed at graphic protection of a brand.
Combined printing
Combination of several graphic technologies in one product makes counterfeit more complicated and acts as a protective feature. For instance, flexography is a basic label printing technology, and offset and screen printing are supplementary ones. Offset ensures high quality colour transition and high resolution when printing pixel elements. Screen printing allows to apply a thick layer of ink that can be easily felt.
Protective design
Special protective elements are included in product design: decorative patterns, rosettes, guilloche elements, graphic components against unauthorized copying, split colour printing, micro text, etc. All of these protective tools hardly increase the cost of the label, but it is impossible to reproduce them without first-class, expensive production base.
Protective inks
Right selection of special inks can significantly promote product security. These can be inks visible only in UV or in IR; temperature-sensitive inks; inks with changing optical properties (they change colour as the viewing angle changes); inks changing colour when exposed to mechanical forces; magnetically-controlled magnetochromatic inks; modification-resistant inks reacting to aggressive substances, and many others.
Holography
Holography is one of the best protective methods against counterfeit. Besides, it is very cost-efficient and effective. Holographic labels: labels in sheets and rolls; the base consists of a paper coated with silicone or polyester. Additional protection: self-destruction when someone attempts to detach the sticker; laser and jet personalization; chemical and laser demetallization; overprint. Up-to-date optical security features: holographic pastel shades; holographic black and white colours; motion and polarizing effects.
Protection against sticker transfer
Unscrupulous buyers or employees sometimes change stickers. They can do so for the purpose of purchasing a more expensive product at a cheaper price or with other views in mind. Protection against sticker transfer helps guarantee the product's authenticity. With this end in view, special cuts are applied on the label. Another option is Foamtac and VOID dissolving substances. Only the upper layer of such a label detaches whereas the lower one remains on the product.
RFID
Radio-frequency is the wireless use of electromagnetic fields for the purposes of identification or tracking objects. A unique digital code contains electronically stored information in the electronic chip that acts as a passive transponder. Virtually any product or a pack of goods can be equipped with this automatic identification system used to locate, identify, sort and track tags attached to objects.